GRADUATE STUDIES IN GEOLOGICAL ENGINEERING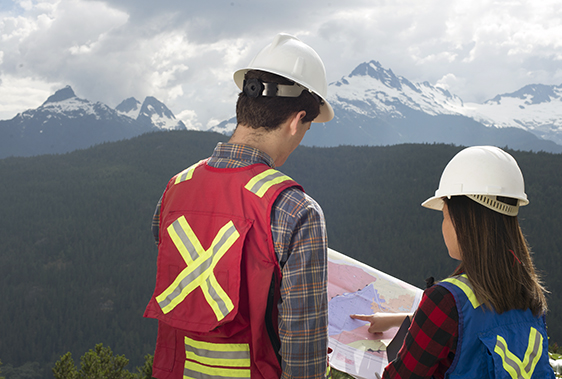 Learn to integrate field observations, experiments, monitoring data, and advanced numerical modelling in the engineering decision making process.
UBC Geological Engineering offers graduate programs at both the Masters and Doctorate levels. At the Masters level we offer two options, our course-based professional development option (MEng) and our thesis-based research experience option (MASc).
Faculty members in the Geological Engineering program have research interests in the following general areas:
landslides, debris flows, runout analysis, hazard assessment
groundwater hydrology, groundwater contamination & remediation, reactive transport modeling, environmental geochemistry
rock mechanics & rock engineering, open pit & underground mine design, tunnelling
Other research areas include geotechnical engineering, environmental geology, economic geology and applied geophysics. Students are encouraged to consult individual faculty members for information about current research areas.
For more details and to apply, visit: Prospective Students
Frequently Asked Question:
MEng and MASc Minimum Requirements
Canadian or American Institution Bachelor's Degree
Applicants that hold an academically equivalent bachelor's degree from a Canadian or American institution to a four-year bachelor's degree from UBC in engineering or a related discipline must have one of the following:
A minimum overall average in the B+ range (76% at UBC) in third- and fourth-year level courses.
Academic standing with at least 12 credits of third- or fourth-year level courses in the A grade range (85% or higher at UBC) in the field of study.
Alternatively, applicants who do not meet the requirements stated above, but who have had significant formal training and relevant professional experience, and/or otherwise possess demonstrable knowledge or expertise that would prepare them adequately for successful study in a specific graduate program, may be granted admission on the recommendation of the appropriate graduate program and approval of the administering Faculty.
International Institution Bachelor's Degree
Applicants must hold a credential deemed academically equivalent to a four-year bachelor's degree from UBC in engineering or a related discipline. View the specific minimum admission requirements established by the University for graduates of different countries. These are the minimum requirements for admission to the University. Individual graduate programs may have additional admission requirements.